Television from anywhere in the world, that's what not only holidaymakers but especially expats want. While Zattoo or waipu.tv can only be used within the European Union without the use of a VPN, TVMucho promises to make TV from home available from anywhere in the world. If you move abroad, you don't have to miss out on your favourite shows, news and sports. You can watch TV while travelling or from a foreign residence.
Requirements for using TVMucho
The provider TVMucho promises to make television from Europe available worldwide. All that is needed is a stable internet connection with a bandwidth of at least 2 MBit/s for SD quality or 5 Mbit/s for HD quality. The TV offer can be accessed via a browser or in the app, which is available for Android TV and tablets as well as smartphones.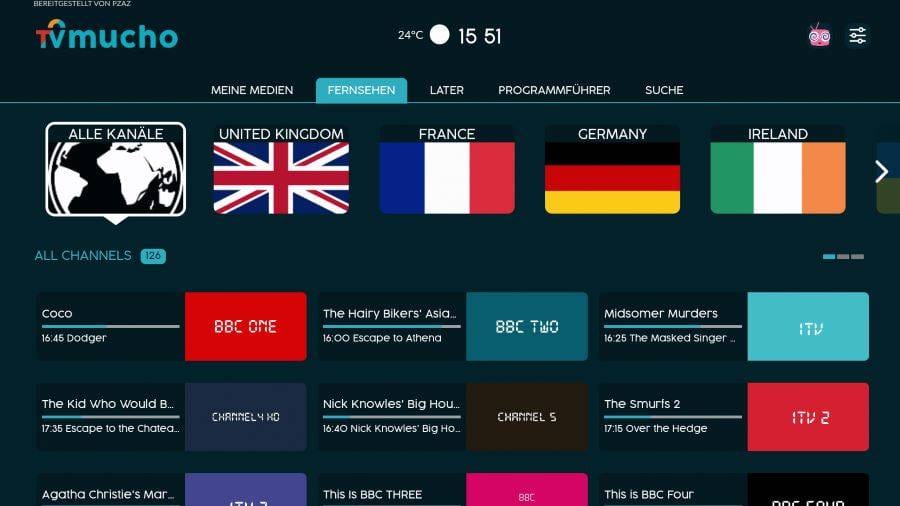 How legal is TVMucho?
TVMucho claims to continue to broadcast the free-to-air satellite signals unchanged. No advertising is added and the content is not changed, so the provider claims that it is not breaking the law. When zapping through the programmes, the respective satellite frequency is displayed so that one gets the feeling of controlling a satellite receiver.
TVMucho works like traditional satellite TV with a slightly different technology. You can receive satellite signals from free-to-air channels virtually by using your PC, laptop, TV box, tablet, smartphone or TV instead of a physical satellite box. Your membership fee pays for a licence for a personal VSMS middleware (Virtualised Satellite Middleware Solution), a satellite reception box and the rental for the reception equipment. This structure delivers all live television signals intact, unaltered and in their original form.
Is the satellite signal actually retransmitted unaltered? A DVB-S/S2 receiver is required to receive satellite television. In order to distribute the programmes via the internet, the stream must be converted. In addition, TVMucho filters out sound tracks, teletext, subtitles, etc. from the transmission and thus changes the stream.
The provider is based in Grand Canaria, so European law applies here. In addition to British, French and Irish programmes, 30 German channels are also broadcast. For the retransmission of television programmes as live streams on the internet, the collecting society Copyright International Media demands remuneration. This is due to the TV broadcasters (= copyright and neighbouring rights holders) through the exploitation of his performance. I cannot judge the extent to which the provider pays or has to pay licence fees.
Even if I would like all free-to-air channels to be available worldwide, I have my doubts that the business model would stand up to legal scrutiny.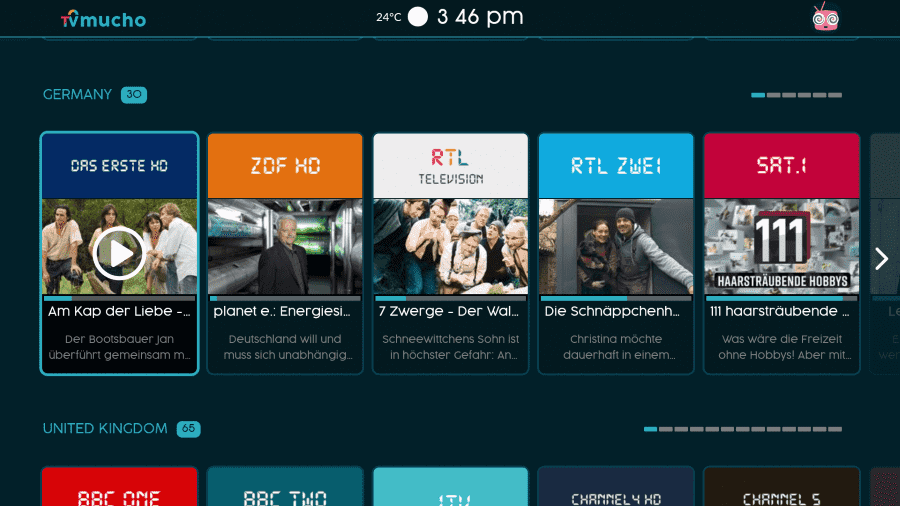 Which channels can you receive with TVMucho?
30 German programmes are broadcast, including Das Erste HD, ZDF HD, RTL, Sat.1 ProSieben, ntv, Welt and Euronews. French programmes such as M6, France 2, W9, TF1 and NRJ 12 are also available.
From my point of view, the reception of the British programmes is interesting. The channels can be received via satellite in a footprint that mainly covers the United Kingdom. In Germany, BBC reception is still possible in Frankfurt, but further east it becomes increasingly difficult.
British programmes include BBC 1, BBC 2, BBC 3, BBC 4, ITV as well as Channel 4, Five, Sky Arts, E4, Film 4 and so on….. Music programmes such as Trace Vault and Now 90's are also on TVMucho.
The programmes of the Irish broadcaster RTE are particularly interesting – they are present on Eutelsat KA-Sat at 9° East on a spot beam and actually serve the terrestrial feed. RTE 1, RTE 2 and RTE News can also be received worldwide in unencrypted form via the platform. Until recently, the Irish Virgin Media Channels were also transmitted.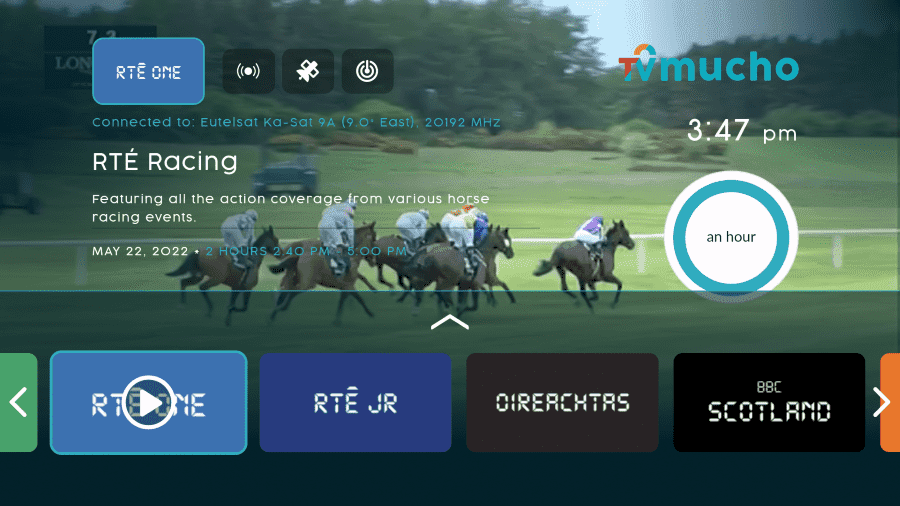 Costs of TVMucho
Without registering, you have the opportunity to watch five minutes of programmes free of charge. With a free registration, the trial offer is extended to one hour per day.
The time limit does not apply to the paid offers, and the channels are also offered in HD quality, provided that the signal is available in high-resolution via satellite. You get a recording memory of 50 hours, whereby the recordings are stored for 7 days.
For one stream you pay 7.99 € per month or 71.88 € per year (Expat TV) or for 4 streams 15.99 € per month or 143.88 € per year. However, since there is no guarantee that specific channels or the entire platform will be available permanently, I would only book the monthly option.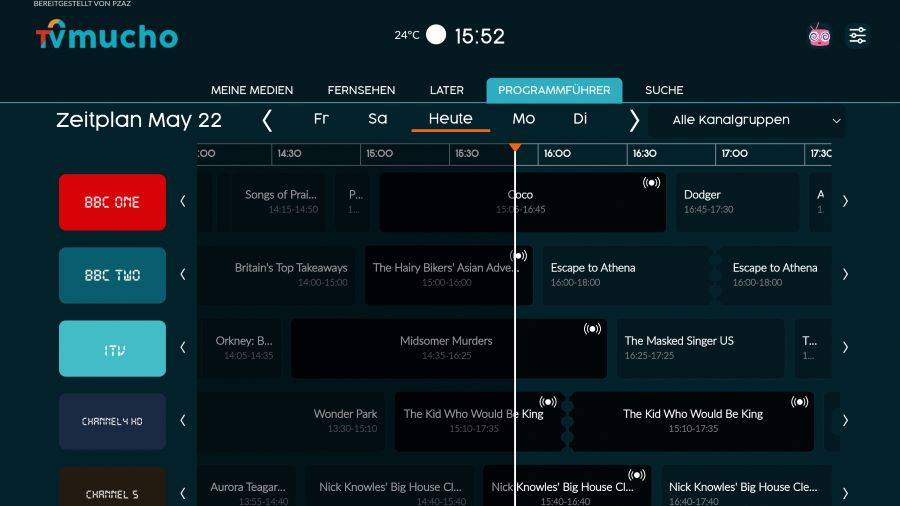 Conclusion – Stream satellite TV worldwide with TVMucho
TVMucho is a streaming provider that taps the satellite signal of German, British, French and Irish free TV channels and offers them via its platform. Since distribution takes place worldwide without the need for a VPN, it is primarily intended to appeal to expats who occasionally want to receive television from their home country. In particular, the programmes of the RTÉ broadcaster are not represented by other streaming providers.
Not least because of the time difference, you have the option of recording programmes. The storage in the cloud is available to all paid customers. The monthly subscription is available from €7.99 per month.
During my tests, the service always proved to be reliable – however, reviewers in the Google Play Store also had different opinions and complained about picture errors or other limitations. However, it cannot always be ruled out that the problem is always on the provider's side ;-)